Wine Bottle Labeler 
Pressure Sensitive Labeling for Glass Wine Bottles
Whether you distribute a national brand or maintain a small artisan shop, you know that the label on your wine is the first thing that attracts a customer. You carefully picked colors, text, and images tell your wine's story. Your label also ensures that all mandatory information is included on your product. With so many important factors tied to one sticker, it's crucial to have an efficient wine bottle labeler system in place.
MFT Bottle Labeler System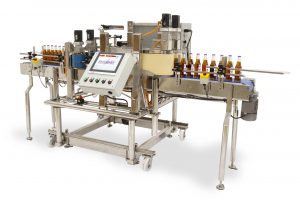 If you are looking for a wine bottle label machine with pinpoint accuracy, pressure sensitivity, and adaptable components, then MFT Automation has the solution for you. Our Bottle Labeling Machine features the superior Impresso Labeler to ensure precise label placement at high speeds. This stainless-steel portable machine is perfect for any commercial wine bottle labeler need.
Required Wine Information
The United States Alcohol and Tobacco Tax and Trade Bureau oversee the mandatory information to print on wine bottles. Wine, plus cider and mead, must be properly labeled before it can be sold in the United States.
Required information includes brand name, class or type designation, alcohol content, a health warning statement, and more. The best way to include all of this information neatly on your product is with an automated wine bottle labeler. A good labeling system should be pressure sensitive, so it doesn't damage glass bottles. It should also be accurate, reliable, and easy to changeover between labels.