Due to the COVID-19 pandemic, public health organizations around the world are adapting to new challenges and procedures. Some manufacturers are pivoting their business strategy to create personal protective equipment (PPE) and additional medical supplies in order to offer support during this time. If you work in the public health sector, you know the demand is high need and products need to be made and shipped now.
One of the most efficient ways to avoid a production slowdown during this time is to invest in automated product packaging. Our friction feeding machines offer the best automation for essential businesses that need reliable and accurate feeding to other applications.
 COVID-19 Automated Solutions & Applications
Feed Pre-wrapped test swabs into Coronavirus test kits
Print and apply variable labels onto cartons for serialization track and trace
Feed and print onto inserts for serialization track and trace with camera verification
How are public health organizations using automated technology during COVID-19?
Medical Indicators Inc., a New Jersey-based medical device company, manufactures FDA-approved, single-use, disposable clinical thermometers that offer unsurpassed accuracy and maximum infection control. A large healthcare insurance company recently requested the NexTemp® Ultra Disposable Thermometers for their company kits being assembled during the COVID-19 Pandemic. Medical Indicators immediately contacted MFT Automation, to invest and improve their assembly production line capability in real-time.
The need for these NexTemp Ultra Disposable Thermometers was so immediate, that MFT Automation provided Medical Indicators with the MFT 250IP3 XED Friction Feeder demo machine the next day. MFT quickly built out and incorporated a new MFT 250IP3 XED Friction Feeder into their assembly production line, greatly increasing the daily output with increased count accuracy. This friction feeder allowed Medical Indicators to count the strips automatically, batch them into groups, and place them onto a conveyor belt for packaging and rapid transfer into cartons. This automated technology helped Medical Indicators deliver product to their healthcare customer, and help millions in need during the COVID-19 Pandemic.
If you're a pharmaceutical and medical company experiencing similar challenges and need fast throughput, let's talk about friction feeder or labeler machine that's right for you.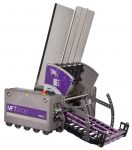 350ip3 Friction Feeder
Essential COVID-19 Applications:
Test Strips
Test Kit Boxes, Cartons
Disposable Thermometers
Manuals & Instructions
The industrial performance series, ip3, is the top tier choice for nearly any application. The 350ip3 Friction Feeder is a powerful workhorse machine designed with high-quality OEM parts which allows for 24/7 reliable production and the ability to take on demanding applications.
The 350's discharge has a large working area enabling the use of added accessories, and is ideal for tipping and affixing. Ip3 feeders can be standalone or easily integrated with a labeler or other machines for an automated production line system. It is the perfect feeding solution for a packaging production environment or specialized system.